Advanced Esthetics
Our Services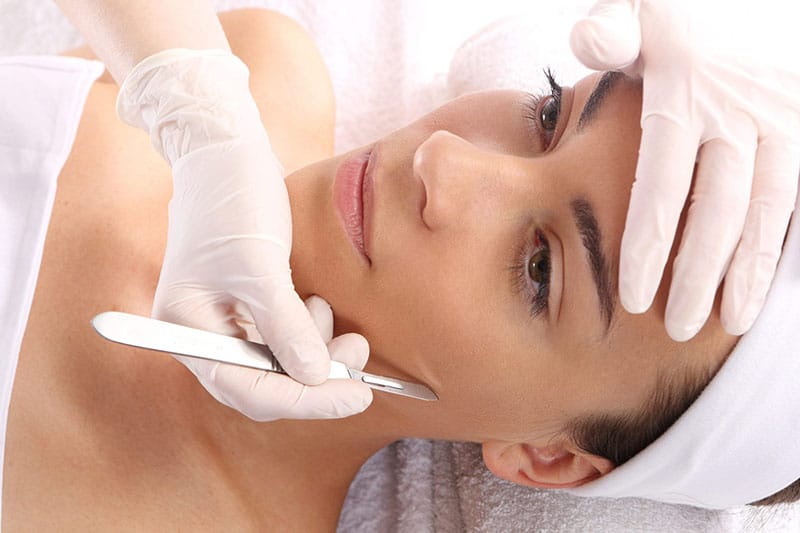 Dermaplaning Treatment
Dermaplaning treatment is a method of skin rejuvenation that exfoliates the skin to remove surface debris and fine hairs. It promotes deeper product penetration, boosting the effect of skin care products, and reduces the appearance of fine lines resulting in smoother, radiant skin. Dermaplaning is recommended every three to four weeks. Each time you receive dermaplaning, you're removing about two to three weeks' worth of dead skin cells. Pair this with a signature Tulasara Facial and LED Light Therapy.
(45 mins) $75
FAQs
Am I a good candidate for dermaplaning?
The ideal candidate for Dermaplaning has aging, dry, rough, or uneven skin tone. Dermaplaning can also help reduce the appearance of shallow acne scars, fine lines and superficial hyperpigmentation.
Is dermaplaning safe?
Yes! This treatment is extremely safe when performed by a properly trained skincare professional! There is no more risk to the skin than when you shave your legs. There is also no downtime associated with this procedure!
Does dermaplaning hurt?
Dermaplaning is effective by performing a gentle scraping motion across the skin's surface. With hair removal such as waxing and threading, most people have the idea that all hair removal is painful, but Dermaplaning is entirely painless!
Why is dermaplaning good for the skin?
Dermaplaning promotes cellular turnover and increases collagen and elastin fibers, so it is superb as an anti-aging treatment! The layer of dead skin cells and facial hair that trap dirt and bacteria are removed, allowing for better product absorption and effectiveness. Dermaplaning smoothes, tones, tightens, and brightens skin, creating a flawless canvas for makeup application!
How often should I get dermaplaning?
Dermaplaning should be received once every 4 weeks (monthly) to achieve optimum anti-aging benefits!
Who is not a good candidate for dermaplaning?
You should not receive dermaplaning if you are allergic to nickel, have undergone Accutane treatments within the last 6 months, have numerous raised lesions on the skin, or have inflamed acne.
How do I know if dermaplaning is right for me?
Dermaplaning is safe for all skin types and recommended for those who want a non-invasive, affordable skin rejuvenation treatment that focuses on quick treatment sessions and no recovery time. Those who want to treat poor skin tone, acne scars, unwanted facial hair, large or clogged pores, dry skin, fine lines and wrinkles can achieve great success with dermaplaning treatments!
Will my hair grow back thicker if I get dermaplaning?
No! Dermaplaning does not interfere with the follicular structure of the hair, thus having no effect on hair growth whatsoever.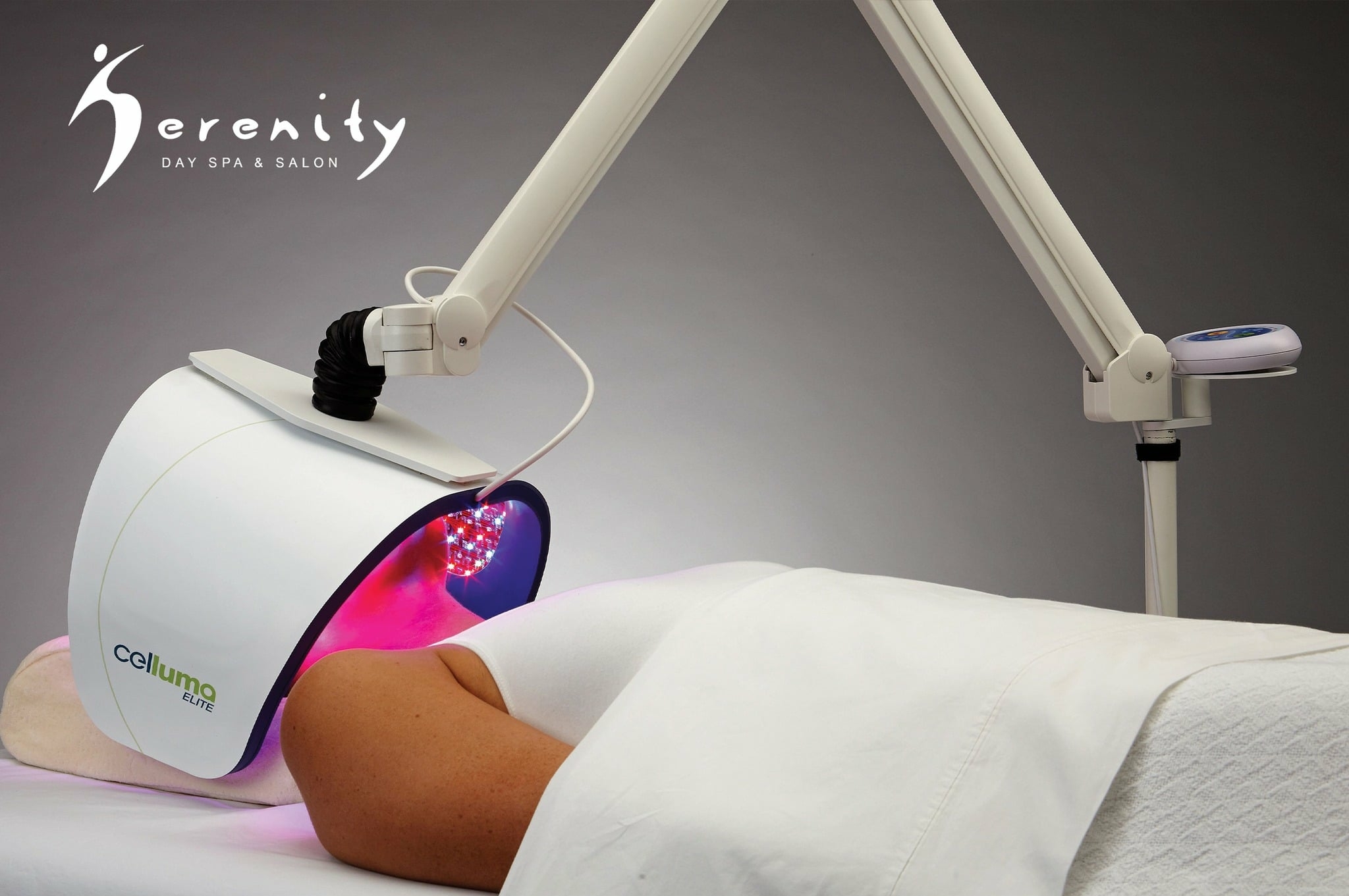 LED Light Therapy
LED Light Therapy is a therapy for cell repair process. Its use is mainly to stimulate collagen and cell production, increase new tissue growth, and reduce fine lines (anti-aging process) and acne. "The treatment is especially effective at improving the appearance of the face, neck and chest, by reducing signs of aging, wrinkles and age spots." Web M.D. Health
30 minutes for $35
LED Light Therapy
Is LED Light Therapy safe?
LED Light Therapy is a non-invasive treatment that produces a pure light wavelength and does not contain ultraviolet rays. This means that it is safe for regular use and cannot cause sunburn or tanning of the skin.
What does LED Light Therapy feel like?
Undergoing treatment feels like lying on the beach and basking in the sun – but without the harmful UV rays! Your skin should get no more than slightly warm, but the "glow" sensation can last hours after your treatment!
Is LED Light Therapy suitable for me?
LED Light Therapy is suitable for all skin types and colors. It assists the skin's own ability to rejuvenate itself by boosting collagen synthesis and stimulating wound healing! You should not use LED Light Therapy if you are taking Accutane or other medications that make your skin sensitive to sunlight or if you are pregnant.
How many treatment sessions will I need?
A course of LED Light Therapy is usually 10 sessions spaced at weekly or twice weekly intervals. Expect your skin to continue improving for several weeks after your final treatment!
What results should I expect after my treatment?
LED Light Therapy is incremental and builds on the work of previous treatments. This means you should expect results from your first treatment to be relatively minor, but improvement should increase significantly with each further treatment. Improvement to your skin should even continue after your last treatment. Pair with dermaplane or microneedling is recommended.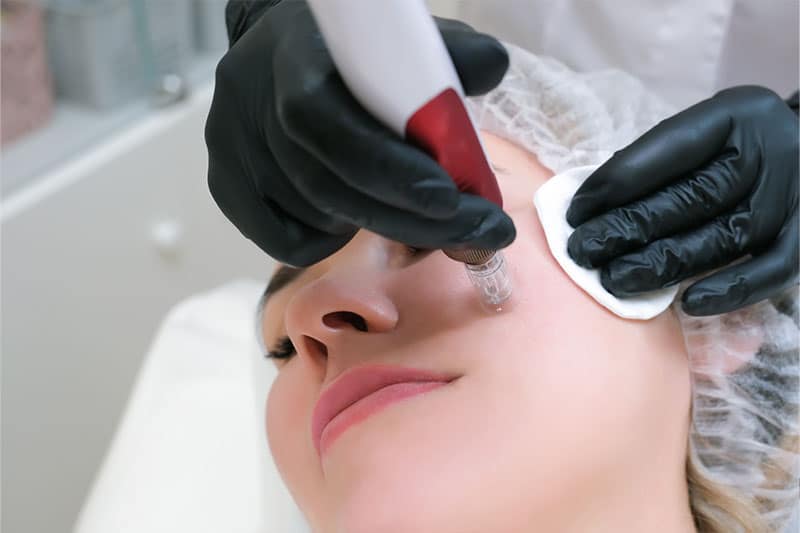 Microneedling (Collagen Induction Therapy)
Microneedling or Collagen Induction Therapy, is non-invasive treatment for firmer, smoother skin. Known for its ability to stimulate the growth of collagen and elastin, micro-needling delivers real results in overall skin rejuvenation. Microneedling is based on the skin's natural ability to self-repair after a laceration or cut. By creating microscopic pinpoints, the body responds with the restoration of new elastin and collagen. Not only will this leave your skin glowing, it can also reduce fine lines, wrinkle, acne scars, hyperpigmentation, large pores, stretch marks and improve skin tone/elasticity. Microneedling combined with LED Light Therapy is the ultimate anti-aging combination.
60 minutes for $300
FAQs
What are the benefits of microneedling?
Micro-needling can significantly reduce and improve the appearance of fine lines and wrinkles, hyper-pigmentation, acne scars, traumatic scars and stretch marks!
How is microneedling done?
Initially, your skin care professional will apply topical lidocaine to numb the skin and ensure a comfortable and pain-free treatment. Then, a thin layer of topical gel is applied and the pen is gently pressed against the skin while simultaneously gliding in one direction until the entire treatment area has been covered.
What is the downtime?
Immediately after microneedling, you will notice a bright redness to the skin. On average, patients are red for up to 2 to 4 days.
When will I see results?
Patients notice an immediate "glow" to their skin once healed! Visible changes to the skin develop over the course of several days and weeks. Results can continue to improve up to 6 months after a treatment as collagen production continues.
How many treatments will I need?
It is recommended for most patients to receive a series of 3-4 treatments spaced about 4-6 weeks apart. For patients with deep wrinkles, advanced photo-aging, stretch marks or acne scars it is recommended to receive 6-8 sessions at 4-6 week intervals.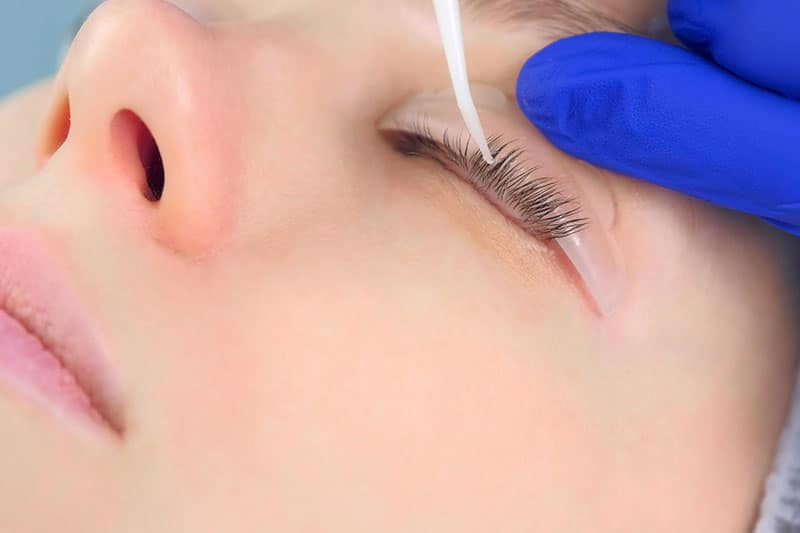 Brow / Lash Lift & Tint Services
Keratin Lash Lift (60 mins) $80
A lash lift is a safe and easy way to curl lashes! Natural lashes are semi permanently curled. Lash lifts are a fantastic option for everyone who is interested in dark, luscious, and beautifully curled lashes with low-maintenance and minimal commitment.
Lash Tint (30 mins) $30
Lash tinting is the safe process of applying semi-permanent dye to your eyelashes dull and light lashes appear not only darker, but longer and fuller.
Keratin Lash Lift & Lash Tint (75 mins) $110
Brow Tint (30 mins) $40 (shaping included)
Eyebrow tinting is a safe process where semi-permanent dye is applied over your brows to shape and define your natural arches.
Brow Lamination (45 mins) $80 (shaping included)
Sometimes referred to as an "eyebrow perm," this treatment is often sought by those experiencing thinning or unruly brows. The treatment reworks and tints your natural brow hairs to create a natural, uniform, full brow shape. Unlike microblading, needles and coloring are not involved.
Brow Lamination & Tint $110 (60 mins)